E Mountain Bikes: Disruptive innovation or new opportunity? Highlights from the Mountain Bike Tourism Symposium
Posted on September 17, 2017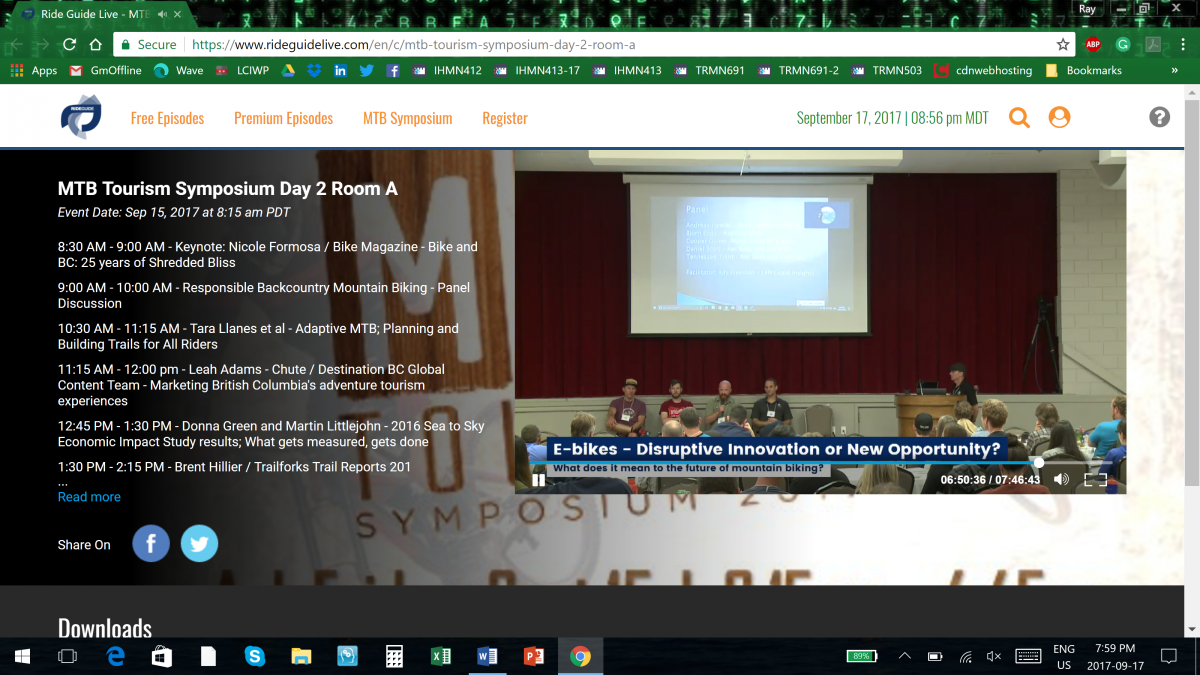 Watch the whole panel discussion at Ride Guide Live here:
(free registration required: https://www.rideguidelive.com/en/registration)
After you register, go to:
https://www.rideguidelive.com/en/c/e-bikes-disruptive-innovation-or-new-opportunity
The bi-annual Mountain Bike Tourism Symposium was just held in the incredible mountain resort community of Revelstoke, British Columbia.
The event was organized by Mountain Bike Tourism Association with a focus on stewardship and sustainability: "Stewardship is the core theme for this year's event and emphasizes the importance of taking care of our trails, our businesses, and our industry.  BC is attracting more mtb visitors than ever before to ride the trails we love and we need to ensure that the effort to maintain our trails is adequately supported.  The symposium will highlight many examples of good stewardship and underscore the need for increasing our capacity to ensure a sustainable future."
Throughout the symposium, the word "controversial" seemed to come up in concert with any mention of eMTBs.  A number of the presentations and panel discussions laid the foundation for the 'main event' at the conclusion of the symposium…a round-table on E Mountain Bikes. I had the privilege of facilitating (aka: 'refereeing') the discussion. The Panel provided rounded representation from government, trail builders, and the bike industry, including Provincial Trails Specialists Tennessee Trent and Daniel Scott from Recreation Sites and Trails from the Provincial Government, Director of Advocacy, Cooper Quinn of the North Shore Mountain Bike Association, Andreas Hestler (Dre) of the BC Bike Race and Rocky Mountain Bikes, and Bjorn Enga of Kranked Bikes.
Some Highlights from the discussion…
Tennessee: "Our Role is to find balance…for the trails we manage under our mandate (paraphrased)."
Daniel: "Policy will adapt and adjust as things become more relevant. If a person can do one lap on a mountain bike, they can do two or three laps on an eMTB in the same time period."
Cooper: "Fundamentally, are eMTBs mountain bikes or are they not? Is this the same sport? As you add a motor, it changes that into a different vehicle. Let's have that discussion…let's manage them like any other user group."
Dre: "30-50% of all sales of eMTBs over $4,000 (in Europe) are e-bikes. It doesn't replace your skillset, you still have to be a good rider to go up technical, to go down technical. Why we are so stuck in subjective opinions is because we don't have enough information. Hopefully we can get that information collectively and rationally and continue this conversation."
Bjorn: "The ability for us to loco-mote with super human abilities. It's disruptive…no doubt about it. We're not going to solve that debate right now. We're not going to call it a mountain bike, but it isn't a motorbike either. How do you hold that down? 20 years ago, mountain bikers were the ones in the cross-hairs…guess whose trails we were shredding?! That's me age 49 two weeks ago…#$%in Rock Star on my e-bike! I'm not lighting up any old dinosaurs. Is it a bad thing to get way out there…isn't' that the name of the game? BC is so perfect for accessing these places. The Fear…The Fear…eMTB is not a dirt bike…it isn't this. eMTBs solve a fundamental problem…most people can't ride a bike up a hill. Drink the Kool-Aid…Drink the Kool-Aid! You can set policy, but who's going to catch you if you can ride a bike like a Demon!? No-one's going to catch you! Write the policy but think about how it's going to be enforced. It will be a nightmare. You can't hold a good shred down."
The panel discussion was supported by some emotional, but respectful commentary from members of the audience presenting questions, concerns, and positions representing a spectrum of the topic. The most significant achievement of the discussion was hearing the most pressing concerns of riders and trail-builders regarding potential impacts of unmanaged access of eMTBs on the quality of trails, the trails environment, and the rider experience.
Daniel: Can you catch Bjorn? The Hamburgler of the e-bike world. We aren't the only people using the public lands. It won't matter if you have a motor hidden in your downtube…if we as a culture are producing damage, they may be coming to us and saying 'you need to shut this down'.
Cooper: It (the community) self-polices, but you have to have the rules in place first.
I made what I believe to be two important calls to action at the end: 1) We need to continue to engage in conversations about this issue in a productive manner, and 2) We can agree to disagree on some points, however; it will be important to us to identify and agree upon our most important collective values to create a vision which can provide one voice for the mountain biking community on this topic. If we don't do this as a community, the government may be forced to do this for us…with results we not be able to predict or may be unsatisfactory.
Let's continue the conversation openly, respectively, and constructively.