Balancing tourism with culture
Posted on April 28, 2014
Guest post by Amy Dove, Royal Roads University
http://www.royalroads.ca/news/balancing-tourism-culture
Travellers are looking, more than ever, for experiences that empower communities to share their cultures without exploiting them. For communities eager to share, there are tourism opportunities to be had that balance exposure with respectful preservation.
Royal Roads University MA in Tourism Management alumni Ray Freeman and Ryan Staley and their team are helping the First Nation communities that make up the Treaty 7 region in southern Alberta find that balance by drafting a tourism strategic plan for the region.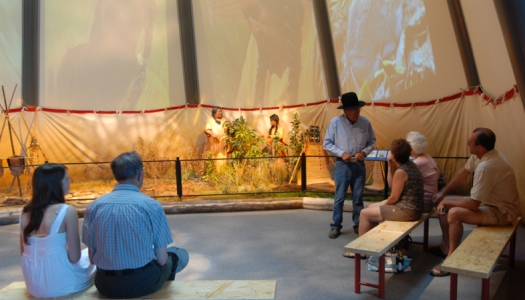 "There is a growing interest and excitement from (the communities) to develop their own stories to showcase their culture," Freeman says. "There are opportunities to learn from the elders and share that with the youth, and to use that as a vehicle to create education and business development."
The plan will be presented to Treaty 7 Management Corporation (T7MC) May 7th for approval and ultimately connection to the communities who can benefit directly from the work.
"Our primary role with tourism is to get our communities actively involved in Alberta's tourism industry," says Corbin Provost, tourism liaison for T7MC, who notes that the organization provides an advisory role for all seven communities, as directed by the individual chiefs. "It would diversify the source of revenue that communities have."
The plan is the result of almost a year's worth of work researching the tourism opportunities of southern Alberta as they relate to First Nations communities. Treaty 7 provides advisory and advocacy services to all of the seven First Nations (Siksika Nation, Piikani Nation, Blood Tribe, Tsuu T'ina Nation, and Bearspaw, Chiniki, and Wesley Nakoda Nations) that compose the Treaty 7 territory in southern Alberta. The communities range from approximately 2,000 to more than 10,000 people and there is a wide range of opportunity within each community.
Based on feedback from the communities, the report recommends "smaller wins and tangible types of development pieces that can be done in the short term," Freeman says. "The focus is on education and helping them to develop tourism experiences."
That includes attractions and recreational trail opportunities as well as a recommendation to create a destination marketing organization, enhancing training opportunities and marketing strategies, Staley says.
"Geography presents some different opportunities," Provost says. "Some in the south and east are really agricultural based and a lot of the opportunities are focused on the history and the culture of the people. That is the draw. Whereas you have communities like Siksika Nation, they focus elsewhere with (a conference centre, hotel and casino)."
The strategy aims to highlight the common interests of diverse communities, namely being a desire to build capacity to create and support a culture of learning, sharing and storytelling, Freeman says. "They are very proud of their cultures and heritage and they want to showcase that and share it with others," he says. Their research shows that is what a large percentage of travellers are looking for as well. Balancing that interest with a respect for culture is woven throughout the strategy.
"Many of First Nation communities have culturally sensitive sites … there are some things they don't want to share," Freeman says. "It's about finding that balance. It's about understanding the appropriate protocols and it's a matter of the community agreeing on what is culturally appropriate for them."
T7MC choose to work with the Royal Roads team because of the diversity of backgrounds of those in the group. That includes the work of Patrick Lucas, a community planner with David Nairne + Associates (DNA) who co-ordinated the community engagement sessions for the plan, who has extensive experience working with First Nations communities in B.C. The appeal of the Royal Roads team for him was the academic backing they brought to understanding market trends, he says.
"They have been able to provide a lot of insight in that way," Lucas says. "It is useful for us and made the project better for Treaty 7."
The grounding for that approach was born in the Royal Roads classroom. It's about community engagement, leadership, social considerations and technical marketing know-how, Freeman says. "It is putting it all into play for the benefit of communities."